Convert Outlook Express Contacts !
Conversion Simplified
WAB Converter tool is an OE contacts conversion software that can be used to convert OE Address Book to MS Outlook PST and to Excel
Outlook Express WAB File Contacts: . Outlook Express, a widely used email management application, stores the email contacts in Windows Address Book (.wab) file by default.
FREE Software Trial (Download Online & Convert 15 Contacts)
OE Contacts Conversion Simplified :
Using our WAB Converter tool, you can get the following easiness benefits:
An easily understandable interface
Easily comprehensible and easy to follow screen instructions
Simple conversion process to Convert Outlook Express Contacts
Detailed conversion process explained on website with screenshots
Conversion process explained software in the user help manual
24x7 support team to clear your doubts
Advantages and Features of Our WAB Converter Tool:
The significant advantages and features of our exemplary WAB converter tool are as follows:

Easy GUI: - The Graphical User Interface of WAB Converter software is easily understandable and familiar and it will encourage even novice users to confidently use the tool to convert Outlook Express contacts.
Quick Conversion: - The OE contacts conversion process performed by our software is very quick and rapid, due to the fast conversion algorithms employed by the software.
OE to PST Contacts Conversion: - Using our software, you can convert OE WAB contacts to Outlook versions 2000/2002/XP i.e. from WAB to ANSI PST. You can also convert WAB file contacts to Unicode PST (format of Outlook 2003/2007).
Conversion of OE Contacts to Excel: - With the help of this multi-purpose tool, you can convert Windows Address Book contacts to Excel.
Most Windows Versions Supported: - Our WAB Converter software is compatible with most Windows versions (98, Me, 2000, 2003, XP, Vista, and Windows 7).

Even the most powerful computer applications are also not 100% free from damage or corruption. Outlook Express email application can also get corrupted due to many unforeseen reasons like virus attack on the system, system crash, software malfunctioning etc. Due to Outlook Express corruption, it is possible that you might lose access to all your contacts saved in the OE WAB file. In such a situation, an OE to PST contacts conversion tool that can help you convert Outlook Express Address Book contacts to regain access to all the contacts.
Wab Converter software is an easily understandable and easily usable product that you can comfortably use to switch OE contacts to PST and to Excel. The two conversion benefits that you get with this product are as follows:
Exchange OE to PST contacts
Exchange OE contacts to Excel

Full Licensed Version (To Convert ALL Contacts) !
For converting all your Outlook Express contacts to PST or Excel, you must purchase the Full Licensed Version of WAB Converter tool. We recommends you to first check the software with the help of the Demo Version and after being satisfied with the performance of the tool; buy the Full Version for full conversion.
Screenshots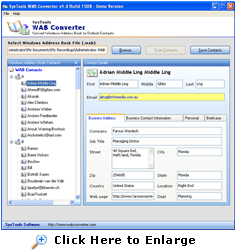 Support Section