Forgot VBA Password Excel 2007 – Get Viable Application For VBA Password Recovery !
It is very crucial to keep your data protected all the time and same concept runs with Excel files. To protect confidential and important Excel projects, Excel users rely on VBA passwords. As well as VBA Excel files allow to implement macros and other programming effects into projects. Sometimes, it happens that VBA Excel users forgot VBA password Excel 2007, Excel 2010 or others. After encountering alert message about incorrect password, Excel users find that they entered wrong password. The below mentioned screen shows alert:
These types of issues can easily shorten via an application having expertise to remove VBA Excel password without losing original properties of Excel VBA files. Our tool with name VBA Password Recovery has expertise to resolve this issue appropriately via sure remove VBA passwords.
Don't Even Try To Open VBA Protected File With Wrong Password
If you are not sure that you are entering correct password for Excel VBA file then, don't even try to open Excel project. Such nonsense acts might put you in Excel password corruption and you will surely get the error shown above. The VBA Password Recovery Software efficiently recovers Forgot VBA Password Excel 2007 from the VBA Excel projects created with any version of MS Excel. The software immediately starts over the unique security password despite of its length and complexness.
Download Free VBA Password Recovery Software To Remove VBA Password
No Need To Worry- Remove VBA Password With Our Amazing Application !
If you want to keep your Excel project protected from any loss or change then, our tool is dedicated to deliver appropriate results after winding up process to remove VBA passwords conveniently. Don't take any tension as if you forgot VBA password Excel 2007 because, we are here to help you out for sure and instant remove VBA password with VBA Password Recovery software. Facilities you can get with our amazing application:
Generation of new password for the VBA project
Not any destruction in original VBA Excel database
Recovery for missing as well as forgot VBA password Excel 2007, 2010, 2003 etc
Removal of password with any length as well as multilingual passwords can also repaired with our brilliant application
Screenshots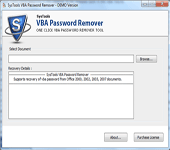 Support Section