Need to Convert WAB to PST? Grasp a Solution Here !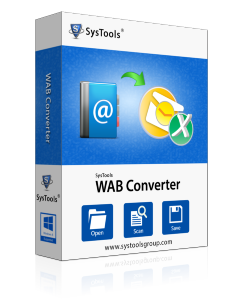 Due to the advantage package offered by MS Outlook, are you inclined towards changing your email client from Outlook Express to Outlook?
In such a situation, do you want to keep accessing your crucial email contacts saved in Outlook Express WAB file in Outlook PST after the email application change?
Are you now looking to transfer contacts by converting Wab to PST?
Download Now Purchase Now

How to Convert WAB to PST files?
For transferring Outlook Express contacts to Outlook, investing in a third-party Outlook Express contacts export tool would be an ideal deal.
Useful WAB to PST Converter !
You can easily convert WAB to PST using WAB Converter, which is a very useful WAB to PST tool. Even if you a computer amateur or a system novice, you can still use this simple and intuitive software to convert .wab to .pst easily, effortlessly; and successfully. You can also use this tool to convert Outlook Express contacts to Outlook 2007 as the software supports Outlook 2007 also, besides other Outlook version.
Download now Demo Version of Wab Converter Software!
Wab Converter software provides a free of cost Demo Version. Our free Demo version easily converts only 15 contacts of Window Address Book to MS Outlook Contacts.
For the access to unlimited conversion an investment is to be made of $39 on the personal license or of $69 on the business license.