Convert WAB file to Excel easily with WAB Conversion Tool !
You can easily convert WAB file to Excel with WAB Conversion tool. WAB to Excel conversion is useful in many ways as Excel provides systematic arrangement of email contacts, find option for instant search of particular email contact and easy accessibility i.e. you can take your email contacts any where along with you and access them easily.  There are many ordinary tools to convert WAB file to Excel but, WAB Conversion software is an advanced WAB converter as it can also convert Outlook Express WAB to Outlook PST file.
Software Qualities:
This software converts Outlook Express WAB file to Outlook PST in both the formats i.e. ANSI and Unicode. Earlier versions of Outlook has ANSI format of PST file and recent versions of Outlook has Unicode format of PST file
It can easily Convert WAB to PST with accurate fields and details like first name, last name etc.
It offers quick and understandable steps for WAB export PST and XLS process.
WAB conversion software is a complete solution for WAB conversion process as it can convert WAB to Outlook 2007 and Outlook 2010 as well and it works fluently in all the editions of Windows including Windows 7.
Try Download Demo Version of WAB Converter Tool
Testing Demo version of WAB Converter software which is absolutely free of cost but this demo version converts limited items.
If you want to convert unlimited WAB file contacts to PST or XLS then order full license version at very reasonable price for personal license $39 and business license $99.

Screenshots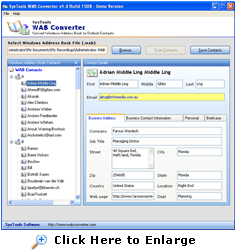 Support Section